Sleep Aids and Bedroom Essentials for Disabled People
Sleep aids and top tips for a good night's sleep
Getting a good night's sleep is essential for the wellbeing of us all, and we understand that living with a disability can often make having a truly restful night very difficult to achieve. We know it can be frustrating and demoralising when you are denied something as simple as sleeping at night. In this post we review some of the latest gadgets and sleep aids that might help you achieve a restful night.
What can you buy to help you sleep?
This is why it is important to make sure you have the right equipment in your bedroom, and create the perfect environment that is hopefully more conducive to peaceful, unbroken sleep. It is also essential that people whom have to spend extended periods of time in bed keep comfortable and well, so that is why we have come-up with an extensive list of practical bedroom accessories and products, that can hopefully help you get a more comfortable and solid night's sleep.
1. Extra Neck and Spine Support – Tempur Neck Pillows
Memory foam pillows can provide much-needed comfort for those whom suffer from joint issues such as arthritis and spinal conditions. Memory foam reacts to body-temperature, and will mould and support your neck and head perfectly due to your own body-heat, and will then distribute your weight, dispersing it equally around the surface of the pillow.
Ideally it is best to go for a pillow with a high density memory foam for a higher-quality product (usually 5/lbs per cubic foot), however most available products will fall short of this density yet still provide obvious benefits in comparison to a conventional pillow.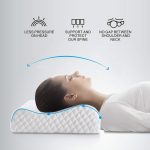 Noffa Memory Foam Pillow with Breathable Cover
Queen-sized pillow for extra comfort
Curved Ergonomic design
Anti-allergen covering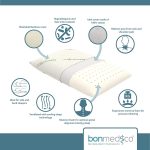 Bonmedico Supreme Pillow With Bamboo Pillowcase
Gel memory foam provides extra support and keeps you cool
Washable Bamboo cover is dust and mite resistant, and helps regulate body temperature
Traditional shape and size pillow, so can be used with your regular bedding
2. Use Blankets Instead of Duvets
A general tip if you are struggling to get a good night's sleep is to consider removing your duvet and instead opting for a selection of blankets. Duvets, especially synthetic ones, are not great at regulating your body heat as you sleep, therefore it should be considered that layering with blankets may offer a more consistent temperature whilst you rest. Also blankets can be much safer and easier to remove for people who struggle to manoeuvre themselves whilst lying down.
3. The Inimitable, Essential Trabasack Bed Tray
The Trabasack is a unique bag and tray in one, designed specifically with disabled people in mind, that has a plethora of wide-ranging uses. It is the ideal companion to those whom have to spend lengthy periods of time in bed, and absolutely perfect for evening and morning use as a bed tray.
The most suitable models of Trabasack for use as a bed tray are the Trabasack Mini and Trabasack Curve; each being available with two tray surface types – both with their own merits that will help make your life easier!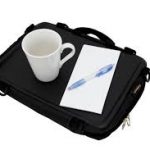 The Trabasack Mini is the most compact, lightweight model in the Trabasack family, and it's rectangular shape and firm faux-leather tray surface makes it ideal for use with laptops and other tasks such as drawing or writing in bed.
As with all Trabasacks, the Mini has a zip-up internal bag compartment that is perfect for keeping any essentials you may need for bed, such as your favourite book, reading glasses, medication, remote controls or phones.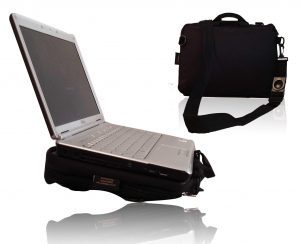 The handy carry-bag style of the Mini and the Curve makes them perfect for taking around the house, and can be filled with your desired items that are needed in preparation for you going to bed.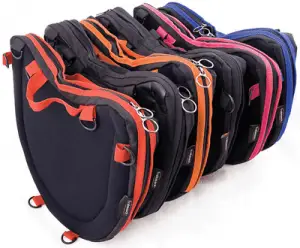 The Trabasack Curve has an ergonomic, waist-hugging design that means it sits close around you whilst in use. The curved shape along with the quick-release side straps makes it a good choice for anyone who needs that little bit of extra security to ensure the tray and items on top stay close to hand.
The traditional Trabasack Curve has a firm faux-leather tray surface like the Mini, and also includes a beanbag insert that ensures the tray remains steady and comfortable upon your lap whilst in use.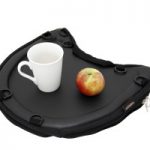 The Trabasack Curve Connect, and the Mini Connect have been created with a velcro-receptive tray surface – meaning you can safely and securely attach a multitude of items to the tray-top without fear of them falling over, falling off or just getting lost in your bed.
Using Trabasack sticky-back hook tapes, you can adhere strips simply and quickly to any item you need to secure, such as plates, remote controls or tablet computers, to make sure they stay in place.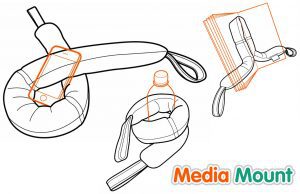 Even more ideal is the Trabasack Media Mount, which can be used in tandem with any of the Connect models of lap tray bag. The Media Mount is a pliable, flexible device made from soft hook and loop receptive fabric, that can be twisted and shaped to hold almost anything upright or at the perfect angle atop your Trabasack tray surface.
The Media Mount features a velcro strip sewn-in to one side, which means you can twist and turn it to get just the right angle, and it will stay in the shape you desire, and also attach itself quite securely to the Connect tray surface.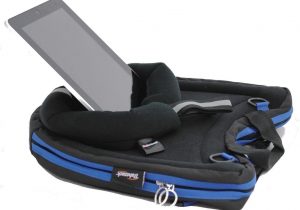 The Media Mount can hold cups and mugs steady with ease, and can be used to prop and position books, iPads, phones and remote controls at the perfect angle you need.
What makes the Trabasack exceptionally multi-functional is that when not in use in bed, it can be used as a modern, practical wheelchair tray or handy bag – providing you with a reliable, sturdy tray surface and bag whether at home or on the go!
4. Keeping Dry and Comfortable
Keeping your bed hygienic and dry is a very common concern for many, and the best line of defence to avoid costly mattress replacements is to ensure you purchase high-quality incontinence bedding, usually in the form of mattress protectors. Thankfully there are now a number of luxury mattress protectors available on the market that mean that you do not have to forego comfort and dignity when choosing the right bed protection. Bamboo woven fabrics can keep your body temperature regulated and provide anti-bacterial properties, whilst ultra-soft fleece protectors can keep you snug and warm – whilst both still ensuring full waterproof protection for your mattress.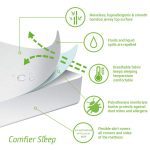 Low-noise Anti-Bacterial Bamboo Mattress Protector
Bamboo woven fabric provides antibacterial properties and heat regulation
Crinkle-free, low-noise fabric
100% waterproof, with bamboo being 4 times more water resistant than cotton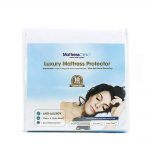 Coral Fleece Top Luxury Mattress Protector
Maximum comfort provided by a luxury coral fleece top lining
Thermoplastic layer provides airflow and regulates body temperature
100% waterproof with a 10 year guarantee
5. Profiling Beds
Profiling beds, or adjustable beds, are often essential for individuals whom need extra assistance getting in and out of bed, or find sleeping on a traditional fully-vertical bed painful. Being able to adjust various aspects of the position of the body whilst sleeping can alleviate the pain and discomfort of many types of condition, and one of the most proven benefits of having an adjustable bed is the ability to elevate the backrest portion; allowing those who have painful joint conditions to sit up with ease for eating, reading or chatting and at the same time, ensuring those with respiratory issues can breathe more easily whilst sleeping. Profiling beds also usually include removable side bars for safety and peace of mind, and easily-adjustable height control, which can be variated for either getting in and out of bed, or allowing carers to make transfers more comfortably and safely for both the carer and disabled person.
Profiling beds can be life-changing for many households, however they are costly – some conditions may qualify for a free adjustable bed via the NHS, so we suggest you contact your Occupational Therapist for more information as to whether you or your loved-one may qualify for support.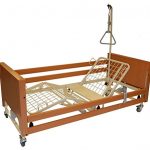 Fully Profiling Electric Bed
Electric hight adjustment
Electric adjustable backrest and knee break, with four position mattress support
Attractive wooden finish yet solid, heavy duty steel frame
6. Keeping Hydrated
It is essential to keep hydrated when unwell, and with a number of long-term conditions such as diabetes, kidney disease or illnesses that cause vomiting and diarrhoea, it is imperative that water is consumed frequently and with ease, especially if you feel too weak to sit-up to have a drink.
The Hydrant drinking system is a hydration aid that is used in numerous NHS settings. The Hydrant drinks bottle is unique in its design; allowing the user to drink no matter what position they are in, be it sat up or when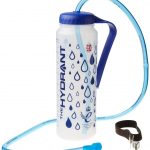 reclined. Featuring a flexi-grip handle that also functions as a clip, the Hydrant bottle can be attached to bed frames, headboards or other convenient objects close to the bed, to provide hands-free drinking. The drinking tube attached to the Hydrant also features a bite valve, allowing the user to bite-down and suck to drink, with liquid only flowing when pressure is applied to the valve. This means that you can stay hydrated without assistance at all times, with no fear of spills or leakage when the drinking tube is not in use.
Another brilliant drinking aid is the Sturdy Straw – much like the Hydrant, the Sturdy Straw is a hands-free non-return flexible straw that can be clamped on to surfaces or furniture to ensure hydration is
always close at hand. The Sturdy Straw is available in a plethora of attractive colours, and also comes in two different lengths (45cm and 65cm) but most importantly it is available in three different widths, which means not only can you keep hydrated with thinner liquids such as water, but it can also provide nutrition via the wider tubes for liquidised meals or soups.
www.sturdystraw.co.uk
7. Slide Sheets and Drawing Sheets
If you suffer from painful muscular or joint conditions, or have limited strength due to your disability, even the simple task of getting comfy and turning over during the night can cause broken sleep. It is proven that getting a good, solid night's sleep is essential in helping not only your body to recuperate and repair itself, but also vital for a healthy mind, too. Slide sheets are indispensable for those whom ordinarily struggle to move easily and comfortably whilst in bed; silky, satin-like fitted sheets offer a very low resistance to your body weight, and by removing the friction usually caused between your nightwear and bedding, make it much easier for you to turn over whilst in bed. Draw sheet systems are also an essential addition to your bedding if you require assistance getting in and out of bed, as they make transfers and turning much quicker and less difficult for both yourself and your assistant.
Also of note if you struggle to position yourself in bed, or have difficulties sitting up, is the addition of a simple bed ladder – the non-slip handles ensure you have a secure grip and the ladder design allows you to pull yourself into an upright position from lying without any assistance. Bed ladders are easy to fit to any bed frame and are ideal for people with back problems.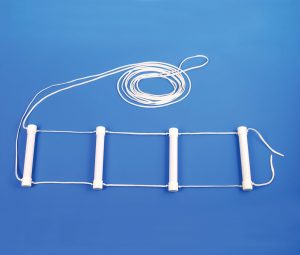 White Bed Ladder
Non-slip rungs
Easy to install and remove
Compact and lightweight, yet sturdy and strong – ideal for travel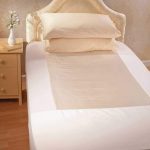 Secure Sit and Slide Fitted Sheet
Fully fitted sheets available in all bed/mattress sizes
Includes a central, low-friction satin panel
Edges of sheet are made from a woven polycotton to provide extra grip when sitting on side of bed
Wendylett Base Sheet and Draw Sheet System

Two items which can be purchase separately, but together create a proven, useful bedding system that can be used alone (Base sheet for easier turning) or together with the Draw Sheet for quick, comfortable transfers with a carer.
8. Avoiding Pressure Sores
As the slide and turning sheets with help you avoid friction sores, there are also specialised items that can help you avoid or minimise pressure sores, especially on delicate areas such as the feet, ankles and elbows.
Warm, comfy fleece-lined "boots" are L-shape in design, meaning they can be used as boots to protect the ankle/foot joint or also double as an elbow joint protector. The soft, cushioned fleece lining offers warmth and comfort, whilst also shielding delicate skin from potential pressure sores. Light weight, so ideal for wearing for long periods of time, and easy to remove or put on thanks to a velcro fastening system.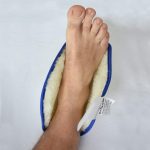 Dual Elbow and Heel Protectors
Foam and fur-lined booties, that can be used on elbow joints as well as feet.
Anti-slip, exterior fabric for extra peace of mind
Easy to put on and remove, using a velcro fastening system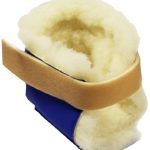 100% Wool-lined Fleece Ankle Protectors
Thick, 100% wool fleece for extra comfort
Universal, adjustable size so suitable for all
Washable at 40 degrees with non-bio detergent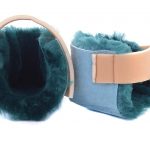 Green Sheepskin Heel Protectors
Made from genuine sheepskin – pure comfort and natural fabric allows better regulation of heat
Attractive green colour and high-quality appearance
Soft, gentle and lightweight
9. Keeping Cosy and Warm
Perhaps it is for most of us that electric blankets are a thing of the past thanks to central heating, however for many whom are sick and have vulnerable immune systems staying warm at all times is vital in ensuring their recovery and general wellbeing. Thankfully electric blankets have transformed since the ones we might have fond, snuggly memories of from the past, and many are fitted with a plethora of technological advancements that not only ensure safety, but can be controlled via Bluetooth, regulate the temperature depending on your body heat and more! Ideal for those with allergies as they can reduce dust mites, and perfect for soothing aches and sores, have a look at our suggestions for modern, sumptuous electric blankets.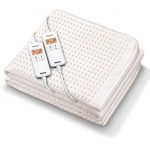 Mongram Smart Electric Blanket
Can be controlled via Bluetooth or app whether at home or away – warm your bed ready for when you get home
Luxurious, super-soft fabric for extra comfort
Separate heat zones which can be individually adjusted in temperature via the LED controller or app
Relaxwell Deluxe Faux-Fur Heated Blanket
Super-sumptuous faux-fur – delightfully soft and beautifully stylish, would look great in the living room as well as in the bedroom
9 heat settings and auto-shut off
Economical – costs a few pence to run all night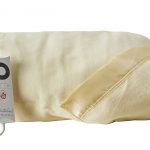 Dreamland Intelliheat Electric Blanket
Blanket responds to ambient temperature to ensure a constant temperature all night long – stops you from over-heating whilst also saving money
Soft fleece fabric with satin trim for extra luxury
5 heat settings with auto power off
10. Keeping Cool and Calm!
Moving-on from keeping warm and cosy, sometimes it is also important to stay cool and comfortable whilst sleeping! Given the extreme heat we saw in the UK this past summer, many of us struggled to keep cool come bedtime, and one item we recommend is a positionable bed fan to provide a soothing breeze and circulate air whilst you sleep.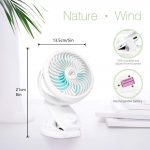 Clip-on Mini USB Powered Fan
Compact and portable – can be clipped-on to bed frames, furniture and more
Can be powered by USB or includes rechargeable battery
Comes in a range of colours to suit your taste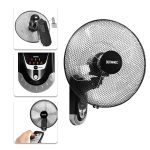 Wall-Mounted Remote Control Fan
Wall-mounted design with fully-articulated fan head and remote control
Powerful 60w motor with 3 speed settings and osculation mode
Timer setting for auto power-off if required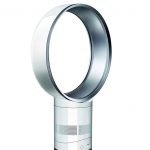 Dyson Air Multiplier Desk Fan
Super-safe design eliminates fan blades yet still provides an uninterrupted, constant cool stream of air
Magnetised remote control with 10 airflow settings which attaches to the fan
Powerful airflow that is 75% quieter than an average blade-fan and uses 30% less electricity
11. Maintaining Good Air Quality
Maintaining good air quality can be an aspect of a good night's sleep that many people overlook. There are many points that need to be considered when it comes to the air quality of your sleeping area, and it is should be noted that if you suffer from a respiratory condition you should always consult your Occupational Therapist to make sure you get the conditions for your bedroom right.
First and foremost ensuing air quality is pure and filtered is a must – whether you have allergies,
sleep apnea or simply find yourself feeling congested due to urban living and traffic pollution, a decent air filter or purifier could make big changes to your quality of sleep. Air purifiers with Hepa filters installed can capture airborne pollen, pet dander, dust particles, pollen and more, clarifying the air for easier breathing.
Air humidifiers are brilliant at providing moisture in the air that you breathe at night – quite essential in winter when central heating can dry the air. An air humidifier is a truly simple way to eliminate a number of symptoms that can occur after waking from sleep – such as a dry throat, cracked lips and dry skin.
We also suggest that air is kept circulated around your bedroom at night, with a fresh air supply making a huge difference to sleeping conditions. Obviously most of us do not want to keep windows open in the middle of winter, so having an extractor fan installed to your bedroom can ensure the fresh air in your room flows freely without leaving you feeling a winter chill!
Levoit Air Purifier with True Hepa Filter
Includes both a Hepa and carbon filter, to remove 99.97% of air particles such as dust, mould, smoke and pollen
Monitors air quality and automatically suggests the correct setting for your room
Large space coverage and auto-off timer
Simple, Stylish Bamboo Room Humidifier
Modern, stylish design that would look great in the bedroom or living room
Diffuses the air with a cool mist to keep the air moist
LED light feature can double as a nightlight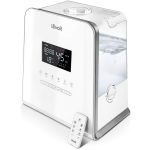 Levoit Cool and Warm Humidifier
Ultra-quiet so ideal for bedrooms – large capacity means it can be used continually for 36 hours before refilling
Humidity and room temperature sensor – keeps you up-to-date with changing environment and automatically adjusts output based on surroundings
Remote control and digital display making it easy to control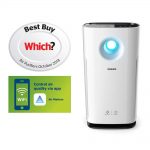 Philips App Control Hepa Filter
Manage air conditions from inside the home or even whilst away, using the Philips App
Includes true Hepa filter which will remove 99.97% of airborne particles and even bacteria in the air
Carbon filter removes gases and odours from the air
12. Lighting Conditions and Hormone Regulation
Your ability to slip into a comfortable slumber is controlled by the release of Melatonin – a hormone that regulates you to feel tired at night and awake in the morning. The creation of Melatonin by your body is dependant upon the amount of daylight you receive and at what point in the day the levels of natural light start to decrease.
Therefore, if you try to go to sleep with too much natural light in your room, your body will struggle to allow the release of Melatonin, making it difficult for your body and mind to relax, and let you fall asleep naturally and gradually. By this measure, it is also essential to receive enough natural light in the daytime, to counteract the fall of night – giving your body a quite obvious distinction between night and day (or sleepiness and wakefulness!)
Blackout curtains are a great way to keep light-levels low in your bedroom, and are useful for people of all ages. We've found some lovely curtains that are available in many colours and styles, and also some fun designs for children, too.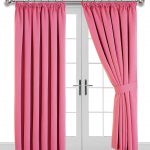 Imperial Rooms Luxury Blackout Curtains
Blockout natural light to keep light levels to a minimum
Available in a large range of lengths and many colours
Thick fabric keeps heat in and cold out, can be machine washed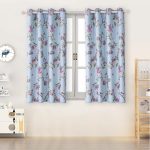 Patterned Thermal Blackout Curtains
Available in a large range of prints to match your décor and taste
Triple-weave fabric blocks out up to 95% of daylight
Include tiebacks and can be machine washed
Kids Printed Blackout Curtains
Fun designs for children's bedrooms
Available in 3 different lengths
Thick fabric blocks out daylight and keeps the room insulated
Thanks for reading – we truly hope these products and tips help provide you with an insight into creating the perfect sleeping conditions, and we wish you a more comfortable, cosy and restful night's sleep! Look out for new post coming soon with a look at children's products and bed-time routines for disabled children.