Gripping Aids for Disabled People in Review
There are many different reasons a person may have difficult with their grip or poor hand function and it can make independence and access to a wide range of regular daily tasks difficult. Active Hands specialise in creating aids which provide their users with a functional gripping aid or aids, letting them enjoy activities which they may never have thought possible.
The Story behind Active Hands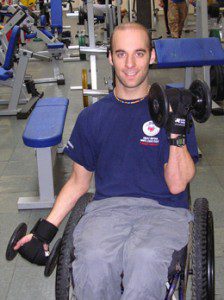 The Active Hands Company Ltd is the development and creation of Rob Smith, an inventor who used his own experiences to develop his gripping aids. In 1996, as a student, Rob suffered a high-level spinal cord injury which resulted in partial paralysis in all four limbs and whilst his recovery took some time, he returned to continue studying engineering.
Lack of hand function became a real frustration however and this is when the first seed of thought was planted and quickly Rob got together the necessary materials and with the help of his mother and her sewing machine, the first prototype was made and these gripping aids allows Rob much more hand functionality.
From household tasks to skiing, Rob could now enjoy many activities that had been impossible after his injury and the family then took the next step and began to make the aids for others, with the limited company founded in 2008.
The product is now available in a range of sizes for a range of purposes and has helped many individuals enjoy a fuller life, from helping tots ride their first tricycle to allowing treasured hobbies to be discovered.
A Closer Look at Active Hands Gripping Aids
This informative video shows exactly what Active Hands Gripping Aids can do and how they can be used:
All of the aids produced by Active Hands are made from strong webbing material to ensure they are long lasting, even when used for strenuous activities and the aids are easily washed in your washing machine.
There are a wide range of different Active Hands Gripping Aids, which we'll look at in turn below:
The original. A standard aid created to be used in a range of environments, at home for DIY, working out in the gym or to hold a wide range of sporting equipment including a pool cue or a rowing oar. You can use them to enjoy gardening or to hold a glass bottle or even to hold a games console controller.
They're available in a range of sizes, including those for young children, with the mini gripping aid
in pink or blue and the adult version can also be bought in pink. We had a closer
look at childrens gripping aids on our sister blog here.
Looped Exercise Aids
Designed for fitness fanatics, these looped exercise aids
are ideal for using in the gym and the loops make them perfect for using equipment such as pull down bars and rowing machines.
This video shows the looped aids in action:
D-Ring Aids
D-Ring aids
are another creation for use in the gym, sold as a pair and perfectly designed so you can access cable and pulley machines with ease. They allow for a greater range of movement and can be beneficial for those with limb differences as well as weak hand function.
Outdoor Aid
A modified version of the standard Active Hands General Purpose Aid, the Outdoor Aid has been cleverly designed for use with thick gloves. It has the same functionality as the general aid but you can use it for extreme winter sports, gardening in colder weather.
What the Customers Say
The Active Hands Company Ltd has a huge fan base with many reviews and lots of support for their quality product. Below are some examples of happy customers' thoughts:
"I just ordered a new gripping aid after a number of years with the first.  It still works great and has allowed me to do a number of things I was in the process of giving up on (tennis, shoveling, cutting with a knife, etc.). I ordered a second right hand one because I travel with it sometimes and the thought of leaving it somewhere and having to do without it for a period of time is not a pleasant one. Thanks again for coming up with an invention that truly makes a big difference in my life."
Bob Goodkind
"I am a big fan of active hands and every one of my clients that has grip issues has been shown how effective active hands are. They are quite simply the best tetra gloves on the market and I am very happy to recommend active hands to my clients at Prime Physio.  I am a big fan and meet people throughout the country and occasionally in Europe, I always recommend Active Hands. Active Hands can be applied easily and adapted to so many exercises, I think they are a great bit of kit."
Andy Galbraith
MCSP MLACP, Physiotherapist, Prime Physio Specialist Therapy Centre
"My grandson has a genetic disorder generally referred to as Micro Cephaly with symptoms similar to cerebral palsy.  He cannot speak, sit up, walk or control arms but is such a warm hearted little guy who loves to ride an adaptive bike.  For some reason, his little legs work on the pedals!

When he first started riding the bike, there was no way to control his arms and hands… I came across your website one night after a pretty extensive search.

Well they work as well as I could have hoped. His movement is much more controlled, he is stronger at pedalling (which is great exercise for him).  The teachers in his school, his parents, and of course myself could not be happier.  Thank you!!"
Bob Majkrzak
Buy your Active Hands Aid
You can purchase your Active Hands Gripping Aid or Aids at The Active Hands Company Amazon Store
. . This is an aid which can truly be life changing and the range of different styles ensure there is something to suit every kind of buyer. It's a revolutionary design that so many people can benefit from and Rob Smith and his family can be proud of what they've created.

Other Gripping Aids on the Market
Dycem® Matting
Dycem® produce a wide range of non-slip matting in a range of shapes and styles which can be used in a number of ways, such as the Dycem Jar Opener. It can be used to hold objects in place or popped onto bottle tops and door handles to make them easier to open, turn and twist.
Gripeeze: for DIY and Gardening
The Gripeeze brand comes with the slogan "Get your Grip Back" and their simply yet innovative products certainly deliver this. Designed with a Velcro strap which allows for any item from spanners to hammers to be strapped securely into your grip and the leather and neoprene fabrics mean the gloves are extremely comfortable.
They've been designed with Repetitive Strain Injury (RSI) sufferers and rehabilitation of temporary loss of grip in mind but this is far from their only use and if you live with a longer term disability which effects your grip there is absolutely no reason you won't be able to benefit from this creation. Take a look at this demonstrative video, showing how effective the Gripeeze gloves are:

Grip-Par
The Grip-Par range are a little more specialised and designed for keen golfers. With both and male and female ranges, the Grip-Par gloves have been ergonomically designed to cause as little disruption to your game as possible and allow you to continue with your favourite sport despite living with your disability or injury. The Grip-Par glove can both improve your control and have received recommendations from PGA coaches and professionals. They provide a unique griplocking action which allows you to comfortably grip your club without any fear. Not designed solely for those who live with disabilities, this product has gained a much wider audience yet can still be extremely liberating for the keen golfer who thought their hobby was a thing of the past.

The right gripping aid can enable so many things, from the most basic daily tasks to enjoying hobbies and sports. We hope you can find the aid which suit your needs and really think the range available is beginning to ensure there is something for everyone.