Low-Tech Lifesavers: Langham Furniture Raisers
Adjust the height of your furniture in a few short seconds
If you need to adjust the height of your furniture or bed because of back pain or hoisting, these furniture raisers could be a big help.
There could be many reasons behind your need to modify and adapt your furniture, be that your bed or sofas and it's understandable that the cost of brand new beds and sofas is not something that's readily affordable most of the time. Whether you live with back pain or related issues, or perhaps have a mobility related condition that means you need your furniture at a more easy to access level, Langham Furniture Raisers can help. Simple to design and easy to fit, these small adapters can make all the difference and received positive feedback when exhibited at the Naidex New Product Showcase this year.
A Range of Styles and Designs
The Langham Furniture Raisers can simply be attached to the feet of your existing sofa or bed, giving it some additional height and aiding your access to your furniture. They can even be used to raise tables and other furniture if necessary. What's more, they come in a range of designs which mean you can match them to your existing furniture with both multipurpose and Wooden Cube Style Raisers
available. They come in different heights so you can gain up to an extra 4″ on your furniture's original height. What's more the latest design come with SureFix technology which is a unique double grip design which ensures a safe and secure hold. As this video shows, there are many ways these items can be used:
The range of designs and styles means you don't have to install some clinical or badly designed product into your home and you can actually find designs which suit the décor of your home and you won't even notice them after a short while.
Holiday away? Take a set of furniture raisers with you!
Many people worry about the height of beds and chair while they are away on holiday. These furniture risers are small and light enough to take with you when you travel abroad on take a shorter trip away from home. Keep a spare set in the boot of the car!
With many happy customers already benefiting from their furniture raisers if you feel you need a little height and don't want to fork out for a brand new three piece suite or bed, this is a fantastic alternative: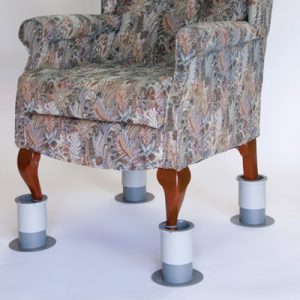 image
title
Raise Its – 8 Pack Furniture Risers – Black – For the Bed, Desk, Table or Dresser – Great for Eliminating Back Pain or f
Raise Its – 8 Pack Furniture Risers – Black – For the Bed, Desk, Table or Dresser – Great for Eliminating Back Pain or f
Furniture Raisers – Elephant feet 14cm (4 pack)
Raise Its – Clear Furniture Risers 16 pack (for 4
Etac Step Standard Furniture Risers – set of 4
Brand
Headwind
Headwind
Gordon Ellis
Homecraft
price
14.99
14.99
19.50
28.99
109.99
reviews
Read Reviews
Read Reviews
Read Reviews
Read Reviews
Read Reviews
link
More Info
More Info
More Info
More Info
More Info
Feature

Made from rugged, durable plastic and interlock as you stack them
No Tools Required – Holds Up To 600 lbs Each
Raise Its are 4

Made from rugged, durable plastic and interlock as you stack them
No Tools Required – Holds Up To 600 lbs Each
Raise Its are 4

Title
Raise Its – 8 Pack Furniture Risers – Black – For the Bed, Desk, Table or Dresser – Great for Eliminating Back Pain or for Elderly to get in or out of Bed Easier
Raise Its – 8 Pack Furniture Risers – Black – For the Bed, Desk, Table or Dresser – Great for Eliminating Back Pain or for Elderly to get in or out of Bed Easier
Furniture Raisers – Elephant feet 14cm (4 pack)
Raise Its – Clear Furniture Risers 16 pack (for 4
Etac Step Standard Furniture Risers – set of 4
Reviews
Read Reviews
Read Reviews
Read Reviews
Read Reviews
Read Reviews
Link
More Info
More Info
More Info
More Info
More Info