Guest Post with some cool crutches ideas
Trendy Mobility Aids: Sticks, Canes And Crutches For The Discerning Disabled
It can be really hard to find stylish mobility aids. It's a real shame that so little attention is paid to making crutches and walking sticks that are a little bit more trendy. After all, these are pieces of equipment that people have to use all the time. They shouldn't be stuck with something dull, clunky, noisy and grey.
With this in mind, we've compiled a list of some of the more trendy mobility aids that we have found:
A quick and simple way to glam-up your current crutches is to purchase a stylish Skoe Wrap – created from quality fabrics and available in three styles, the Skoe Wrap instantly adds personality to traditional, grey crutches! The "Midnight Sparkle" wrap is crafted from black sequins to add a little glamour for evenings out. The Skoe "Go Wild" Wrap is made from a plush, furry tiger-print fabric that is soft to the touch, and finally the "Dark Demin" Skoe Wrap is something a little more relaxed and casual, for days out or the weekend.
These canes look really cool! They're beautifully designed and look really vibrant and stylish. They come in a variety of colours and are apparently built to last a lifetime. They weigh 12-14 ounces and can support up to 250 pounds.
They're made from a high-strength bicycle-grade aluminium shaft with a hooked birch wood handle. The handle widens in the right places and has a build in rubber strip to make it more comfortable and practical to hold. The shape of the handle also means that the user holds it directly above the tip which means they have increased stability.
The classic Sabi Cane costs around £59 plus shipping costs. They come in three sizes depending on the height of the user.
As well as their standard cane, Sabi have created the Tuxedo – an all black version of their walking cane due to popular demand for a more formal mobility aid. It comes in luxury packaging and the birch handle is stained to make it darker and richer. According to their website: "It is the criminally gorgeous and brooding hero. It is the reflection of a love affair." This might be a slight overstatement but, whether you agree with that or not, you have to agree it does look very good.
The Luxe Premium cane costs around £79.
The final form of Sabi cane is their sports cane which is ostensibly for taking out on hikes and walks. The design is largely the same but  with a matte finish rather than the brighter effect of the standard model.
It's a fair bit lighter, weighing 10-11 oz. and has a reflective logo, for walking at night. The handle is foam rather than birch wood which makes it more suitable for providing a secure hold on long walks but also makes it a little cheaper (£37-£59 plus shipping). It's not quite as stylish as the standard cane but it is perhaps a little more practical for some people.
Sabi Sport Cane – £39.99
All the Sabi canes look fantastic and are really creatively designed. It shows that you can do interesting things when designing walking sticks!
Arbin Crutches are great because they are so compact. They're retractable, so when you are using them they can put aside taking up very little space. It removes the usual problem of your crutches getting in the way and making a unattractive mess, when they aren't being used. These crutch's handles slide down from the cuff and up the bottom slides up from the foot of the crutch to the small size of only 67 centimetres. Once folded in it can also be stood up on the handle making it easier to reach as well as being less noticeable. It's really practical and stylish too!
Arbin crutches also look good when they are at their full height. They're sleek and cool and they come in bronze or grey. They're available in the UK at Chic Aid Crutches costing £184 including postage, packaging and VAT.
Stylish Folding Walking Stick by Blue Badge Company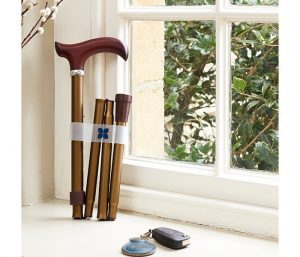 Blue Badge Company have created a collection of tasteful, stylish walking sticks that are super-compact and folding in design. Created from the highest quality aluminium and featuring a Canadian Maple Wood handle, these walking sticks are abundant in character and class.
They can be quickly and easily folded-down for storage, and the compact design means they are small enough to carry in your handbag or carry bag.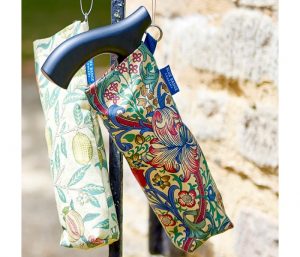 Also available by the Blue Badge Company is a
range of bags in a range of attractive prints
, designed for keeping your walking stick to-hand, or allowing you to hang the stick on wheelchairs or hooks using the handy D-ring. Also ideal for keeping your handbag clean of debris and dirt that might gather on the walking stick if you chose to store it in your bag.
Luxury Blue Badge protectors can also be purchased in prints to match your walking stick bag.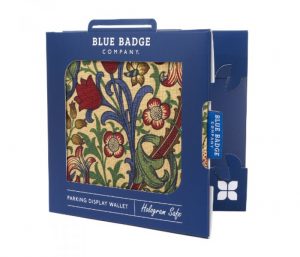 If you like bling and want to make a bit of a statement with your mobility aids then Glam Sticks is the place to go. In 2011 they were named Mobility Product of the Year. They take no prisoners with their designs – covering the sticks in diamante and sparkles – making everything extravagant and shiny. Glam Sticks look to provide glitz and glamour to go along with your style. They're particularly good fun for evenings out, providing a bit of glamour to go along with your outfit.
Kaleidescope Crutch – £57.99
Glam Sticks come in a variety of models and designs with varying prices. The amount you pay is essentially based on how ostentatious you want your stick to be or how much bling you want on your crutches. A fairly basic, but stylish, crutch costs just over £3o. At the top end you can get a Swarovski encrusted walking cane – the ultimate decadent walking stick – for £224.99.
Glam Sticks have picked up something of a following amongst injured celebrities, adding to their reputation for providing glitz and glamour. For instance, when Jessie J broke her leg last year, she wore a pair of Glam Sticks to the MTV Awards, giving her the required bling to accompany her style. These aids are great for providing a bit of luxury and sparkle, especially for a night out.
Cool Crutches offer people a range of crutches with fun, patterned designs. They also have a washable, removable neoprene squidgy grip which moulds to left and right hands and makes walking a lot more comfortable. They are possibly not quite as light and sleek as some of the other crutches we've featured but they are fun, colourful and, well, cool!
@trabasackI have black Cool Crutches.. whoever engineered thosewas afreakin genius!

— M.W. (@MMmmwa) February 15, 2013

Most of the crutches cost £47.50 (not including VAT or shipping) but for £67.50 you can create your own custom design for them.
This range offers a good range of block colours which liven up the crutches without becoming too garish. This might be preferable to people who don't want to make quite as much of a statement, with their crutches, as someone who'd go for a Glam Stick, for instance, but who want to add a splash of colour to them.
You can chose from a variety of main and secondary colours to accompany the black handle. This is good because it means you can design your own crutches to be as bright as you want.
They're available at Chic Crutches and cost £34.99 (plus VAT and shipping)
Mobilegs have created an interesting new design of crutch, using a 'saddle' instead of a the normal cuff at the crutch's top. This is supposed to improve mobility, flexibility and comfort for users. They say that since it is so radically different, from traditional crutches, it can't even be called a crutch but has been named a 'mobi'.
Mobilegs are intelligently designed to help the user and really are quite different. They look a lot better than many traditional crutches too – certainly a lot sleeker, slimmer and less drab than NHS crutches. It's also possible to get a 'mobiskin' to cover the shaft with a more distinct design.
The problem (and it's quite a big one) is that Mobilegs are currently not available in the UK. When we got in touch with them they told us that they are still a relatively small start up company so they can only cater to the US market. However, since there might be ways around this, especially if you buy them online, we thought they were worth including. They cost $129 plus the (possibly substantial) cost of postage and shipping. We will keep you up to date should there be any change regarding UK distribution. Hopefully there will be soon!
Intelligent Design
So that's the end of our list of trendy mobility aids. We've had a variety of styles, designs and prices in there. From Sabi to Glam Sticks – hopefully there should be something for everyone in there!
If you know of any other trendy mobility aids on the market please get in touch with BlueBadgeStyle or leave a comment below
Once you have your cool crutch or glam walking stick you may also be interested in this neat gadget for holding sticks or crutches together. Check out this post on the Bridgit Crutch Holder
UPDATE : Strictly Judge shows off diamante encrusted crutches
BBC Strictly Come Dancing fans may have spotted judge Craig Revel Horwood with some glitzy crutches, apparently they are actually diamante encrusted.  He had major hip surgery and rehabilitation therapy at King Edward VII Hospital in London.
Ice Cool Crutches: the diamante encrusted crutch showed off by Craig on 'It Takes Two' with Zoe Ball
Craig is not the only person who wants to be seen with some stylish crutches. Copyright images : BBC