Drinking aids for Disabled People Reviewed
Drinking aids offer important, everyday assistance to those with health conditions such as tremors, Parkinsons and Cerebral Palsy. There are many innovative yet simple drinking aids available, and the newest one on the market is "handSteady".
The handSteady drinking aid is a drinks cup with a rotatable handle. Even though many everyday items have evolved in terms of design, it would seem that the humble cup has remained the same for centuries. Although many people find drinking from a normal cup easy, if you suffer from dexterity issues, tremors, weakness or muscle pain you will find that fixed-handled cups can cause pain and other difficulties.
Creating the handSteady Drinking Aid
The handSteady drinking aid was created by Chris Peacock, an inventor and Physics graduate from Southampton. After one of his closest family members had been diagnosed with Parkinson's Disease, they found that it affected their ability to drink. It was at this point that Chris looked around for options for Parkinson's drinking aids to no avail, and he knew he should use his creative talents to fill this much neglected gap in the market.
Designing a new adaptive drinking aid
Chris started upon a post-graduate Masters in Industrial Design Engineering, and decided to base his studies on creating a new drinking aid for not only his relative, but millions of others in need of extra help with drinking.
Chris' project garnered support from a number of influential and acclaimed innovations institutions, including a Dyson Scholarship, a Kenny Yip Award and an Engineering and Physical Sciences Research Council Scholarship.
The result of Chris' hard work, innovative thinking and scholarly support was the new handSteady drinking aid.

How Does the handSteady Work?
Often the most simple of ideas can revolutionise the world, and the handSteady is set to do just that. The handle of the handSteady cup is rotatable. This means that instead of having to hold a cup at an uncomfortable angle, the handle can be tilted to suit your specific needs.
The handSteady cup self-levels and will stay upright until you're ready to drink, no matter what angle you hold it at. You do not have to twist your wrist to bring the cup to your mouth helping to
reduce pain. Other everyday cups force the user to keep the cup in an upright position, and if you suffer from tremors or muscle weakness or rigidity, this can often mean that spillage can occur very easily.
With the handSteady drinking aid cup, you no longer need to twist and bend your wrist to take a drink. The rotating motion of the handSteady handle means that you do not have to tilt your head backwards, or rely on elbow or wrist action to take a sip of liquid. The cup can be tilted using your other hand, your thumb or simply by using your lips.
The handSteady cup is ideal for those with tremors or hand coordination problems. By rotating the handle 90 degrees, it can be carried whilst walking with a reduced chance of spillage. It also allows for limited elbow movement when moving the cup towards your mouth for a drink. Providing users with the ability to keep their elbows close to their sides whilst drinking can help to eliminate tremors that would otherwise cause drink to spill.
The Benefits of Using a handSteady Cup
Having problems with the simple act of drinking can cause many people to feel embarrassed and self-conscious. Having little control over your movements can cause drink to spill easily, staining clothes and furniture. It is for this reason those with certain health conditions feel anxious about going out with friends and family to drink in public. However, the design of the handSteady provides not only a practical and effective drinking aid, but also a piece of mind for those that use it. The assurance that drinks will no longer spill due to tremors or muscle weakness can provide independence and dignity, whilst providing an easy and comfortable drinking experience.
The handSteady drinking aid is an ideal alternative cup for those with:
Tremors
Limited Dexterity or Slowness of Movement
Swallowing Difficulties
Joint or Muscle Pain, Stiffness or Weakness such as Arthritis
handSteady's Innovative and Inclusive Design
When Chris Peacock designed the handSteady it was to first and foremost serve a purpose and help people to drink easily. However, he was also passionate about creating a product that looked as good as it functioned. The elegant design of the handSteady is based upon the traditional bone china cup many of us use on a daily basis. The innovative materials used to create the handSteady reflect the delicate colouring of bone china and also make it 31% lighter than normal cups. This provides even more ease of use and comfort, especially for those that suffer from muscle weakness or stiffness. The handSteady also boasts a number of other benefits, including a large handle with a guard to prevent hot drinks burning your hands, that is big enough to be held in the "power grip" hold.
The cup also features an ingenious curved rim, that guides liquids to the centre of the mouth when drinking, and ensures liquid returns to the cup to avoid dripping. Each of the handSteady drinking aid cups can hold 250ml of liquid, is insulated to keep drink cooler/warmer for longer, is stain resistant and can be conveniently cleaned in a dish washer.
The new handSteady drinking aid is truly a revolution in everyday design, and solves a number of drinking problems that had yet to be tackled without the use of tubes or straws.
Other Drinking Aids Currently Available
Now we've covered the new handSteady, let's take a look at some of the other innovative and practical drinking aids available on the market.
The Hydrant 1 litre with Straw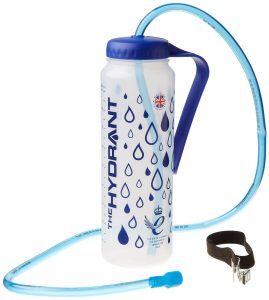 Created and developed by Mark Moran, the Hydrant is a water / drinks bottle with a twist. This drinking aid is a bottle with a unique one-piece cap/clip/handle that can be secured on to almost any equipment including beds, wheelchairs, bikes and more. The user can drink from the bottle with ease using the drinking tube that fits securely to the Hydrant bottle. Having this ability to drink through a tube means those that are weak or struggle to hold a cup or bottle can simply sip through the straw with ease. Not having to reach for a drink and having the Hydrant by your side helps to keep patients hydrated and comfortable.
Much like the handSteady, the Hydrant provides independence so that the user doesn't have to rely on asking for help when they need a drink. The Hydrant holds 1 litre of liquid and the drinking tube includes a special bite valve that opens under pressure, allowing the user to drink at a comfortable pace. Once the bite valve is released, the tube closes to avoid leaking and spillage of liquids.
Click here to purchase the Hydrant 1 litre drinks bottle with bite-valve tube.
The DUO Cup Holder
The basis of the DUO cup holder is that it adds an extra handle to your favourite cup. Making your cup or mug two-handed is ideal for those that struggle to grip and hold a cup using only one handle. Rather than having to purchase new two-handled mugs or cups, you can now transform your favourite everyday cup with the DUO.
The DUO will safely and securely fit around your mug of choice, and the ergonomically shaped handle provides a steady and study grip whilst also protecting your hands from hot drinks. The DUO can also be attached to glasses as well as ceramics, and this ability to adapt drink ware you already own is not only easy to do, but also cost effective in the long term. Click here to purchase the Duo cup holder.

Easi 2 Drink Anti-spillage Drinking Aid Insert
The Easi 2 Drink is a white plastic device which can be inserted inside of mugs and glasses to help reduce spillage. It was specifically designed to help those with tremors or coordination problems drink without spilling liquids. The Easi 2 Drink anti-spillage aid can be placed inside any standard sized mug or tumbler, and the unique shape of the device helps to restrict the swaying motion of liquids. This in turn helps to avoid spillage for those who struggle to hold a cup steady.
The Easi 2 Drink Anti-Spillage aid can be easily inserted in to any cup, mug or glass and can be removed for cleaning. The handy pocket-size design means you can carry it with you anywhere and easily adapt any drinking vessel without needing to carry a special cup or bottle. The Easi 2 Drink can withstand liquids from 0-100 degrees Celsius and is available to purchase here.
Ornamin Thermo Safe Mug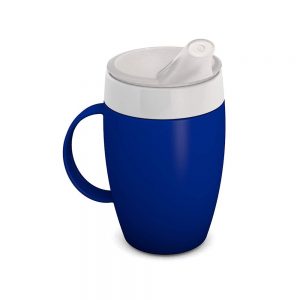 The Ornamin Thermo Safe Mug is a stylish and modern looking drinking aid that keeps drinks hot or cold for longer. The large, easy to hold handle provides enough room to be held via the "power grip" hand position and is ideal for those with arthritis. The Ornamin Thermo Safe Mug is insulated yet lightweight, and has been designed in a special cone shape which makes drinking easier for those with limited movement of the neck.
The bold, bright body of the mug contrasts with the white rim, which makes it easier for the user to see the top of the mug.
Ornamin Thermo Safe Mugs come in a whole plethora of colours (including yellow, blackberry, petrol and green), and comes equipped with a removable, spouted lid. Each mug can hold up to 140ml of liquid and is microwave safe.
If your drink of choice is usually tea or coffee, check out our previous post about safer alternatives to disposable hot drinks cups.
Strawberi Straw Holder

Strawberi straw holders are a simple yet ingenious little device that attaches to the side of your glass to keep your straw in place. The Strawberi keeps your straw steady and upright, which means you can drink hands free and not have to worry about the straw moving about. This is ideal for those with tremors or muscle weakness. The Strawberi drinking straw holder can be attached to any type of drinking cup or glass and helps to eliminate any stress or mess that can be caused by trying to keep the straw in the right position.
The Strawberi is also perfect for young children who are learning to suck via a straw and the added bonus is that they are dishwasher safe for extra cleanliness and time-saving.
And finally…Thirst Aid Helmet Drinking Hat!
Or, if none of the innovative and practical drinking aids we've mentioned so far take your fancy, why not opt for the classic Thirst Aid Helmet?! Hat AND drinking aid in one, the Thirst Aid Helmet offers multifunctional practicality unrivalled by any other drinks-hat on the market. Hands-free hydration has never been so simple – avoid spillages and unnecessary fumbling for the nearest beverage with your choice of bottle or can firmly attached to your head. The Thirst Aid Helmet allows you to holster either a bottle or can firmly to either side of your head, and once the drinking tubes have been inserted, you are left entirely hands-free for anything you desire. Ideal for sports events, drinking on the go or even relaxing at home, the Thirst Aid Helmet is the ultimate in style and functionality. This may seem like a bit of fun, but hey, if  it works for you then why not?
😉
Please tell us what is your favourite drinking aid in the comments below: