Top Packaging Openers and Safety Cutters
Using a purpose made safety cutter makes opening those eagerly awaited mail order products so much quicker and safer! We're buying more online than ever before and with online shopping comes box after box of not always well-wrapped goodies. Getting packages open is not easy at the best of times and it can be highly problematic if you have a disability which effects your limbs, grip, fine motor skills or coordination. Here we're looking at some gadgets designed to make ripping open boxes and getting to your goodies easier than ever before, with an eye on their suitability for disabled people.
Many of the package openers on the market are utility tools which can be used around the home in other ways. Many cutters double up as kitchen tools, can be used for cutting ties off clothes, couponing, arts and crafts and much more.
iSlice Safety Cutter
The iSlice Safety Cutter features a ceramic blade, which is quick, easy and safe to use. The device is a complete replacement for scissors and traditional safety knives. It can be used for removing film, shrink wrap or difficult moulded plastic packaging. It is also magnetised and has a built-in keyring hole making it portable and easy to use on the go.
Westcott Box Opener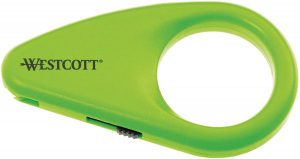 Once again featuring a ceramic blade, this Westcott Utility Cutter benefits from a durable and robust design. Ceramic lasts up to 10 times longer than stainless steel so it makes for a long-lasting blade. The compact size of this box opener makes it a popular choice and the fixed blade and finger loop help when guiding and controlling the blade.
Zibra Open-It!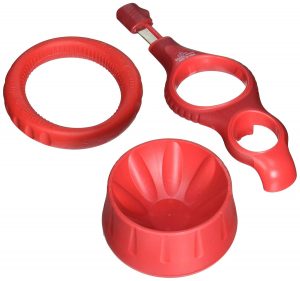 Sold as a product which relieves the stress of "wrap rage", the Zibra Open-It is a strong utility cutter. It can slice through hard packaging as well as paper and plastic, easily breaking through twist ties and zip ties. It has additional functionality allowing it to pop bottle caps and unscrew bottle caps.
Nimble: The One-Finger Package Opener – Our Top Pick!
Topping our list of package openers is the Nimble. This smart and unique device stands out because of its accessible design. Using just a single finger, this device makes it easy for people with a range of disabilities to easily cut and slice as required. A single finger swipe can cut open a box, food packaging or any other item, without any risk of injury. The safe blade profile offers no risk of injury and it the one-finger operation design (patent pending) means even if you have limited hand mobility, you should be able to properly use and benefit from the Nimble.
The Nimble package opener is suitable for people with joint paint, little hand strength, tremors and reduced hand-eye coordination, as well as in many other situations. The device was developed and tested by over 150 people, some with disabilities, some without and the result is this effective and well-designed cutter for many different items in the home.
Safe on the skin
A unique benefit of the Nimble is the small blade means it is very difficult to hurt yourself. It is so small that the ridges of your skin ridges actually move out of the way and it doesn't cut you. I know it sounds incredible but it is probably the safest cutter on the market today. This makes it particularly useful for anyone with dexterity problems. The bright yellow colour is also a boon for those with a visual impairment.
You can see exactly how the Nimble works in this useful video:
Order your nimble directly from Trabasack.com here